Welcome!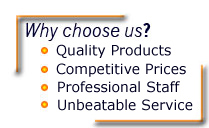 Sunrise Building Supply is a locally owned family business that has been servicing the professional remodelers and builders in Utica, Rome, Syracuse, and the Mohawk Valley area since 1985.
In 2001 Sunrise expanded its operation into the Syracuse area. To meet the increased demand, we opened our expansive new warehouse and showroom at 5963 Court Street Road in 2008.
It did not take long to establish in Syracuse what the contactors in the Mohawk Valley have known for over 20 years; "Service Starts at Sunrise!"